i long to see the sea gypsy immersing themselves with the nature and thinking, life could be so simple.
here am i in one of the most beautiful place in the world. near all those beautiful island with all those amazing sea. i feel like jumping in the sea and swim with the fish but i have promised Mr Basboosa to behave myself. i guess, it means to stay away from the sea. well, i'll be taking a boat to meet my respondents on thursday. it's just going to be 5 mins..oh..can we go further?...hahaha. such a crawzy lady. my co-researcher will kill me for dragging her that far. i'll save that adventure for a personal trip .
there are too many places i wanted to go but i couldnt find time for it. 25 days leave a year is nothing after few visit back to my hometown. starting this year i have to think ways to save my annual leave. half of it will be spent for holiday across the globe visiting my in laws and 3 days for a getaway with my mother somewhere and trip back and forth to my hometown. this year i just took mom to Cameron Highland on Chinese New year and next year me and Mr Basboosa agreed that Langkawi will be a nice place to take her. i couldnt take her diving in sipadan or climbing the mount Kinabalu so i guess Langkawi will be a suitable place for all. shopping and sightseeing for her, diving for him, chocolate for me :)
traveling for work means that i have little time to wander around. half of the day will be spent meeting the respondents..acting professionally, another half will be spent to prepare the report. we wouldnt want to spend hours in office after the trip just to write the report. we have zillions things to settle and plus "dont-know-what" will come out.
and me. i'll be leaving next wednesdy at the very early hour. i told mr Basboosa that the kitchen will be officially closed for operation starting next monday. i'll only be home this friday night. i think my flight will arrive around 9pm...waiting for luggage, traveling back home.. so perhaps i will only be in my apartment by 1030.
the weekend will be laundry day and the kitchen will still be operating....and yes i owe Mr Basboosa another one Basboosa. i made him one before i travel but silly me..i missed one ingredient. the basboosa doesnt seem like normal..hahaha. he's okay with that. a less perfect basboosa and a dozen of Roti make me less guilty leaving him for the week. i do miss him all the time.
honestly nowadays i enjoy cooking for him. he's a big eater who eats everything i cooked and never complaint. i'm new in kitchen so my food could taste nasty sometimes. he has his own way to comment and choose the right words not to hurt my feeling or damage my ego :P. Alhamdulillah i'm blessed to be married to him. he doesnt seem to mind cooking for me, teaching me new recipes and i have to admit that he is a good cook. two thumbs up for his couscous and steak and shorba and chakhchoukha and the bread and...i guess all of it. he deserve the credits.
after this week away from home the only place i wanted to b is home and cook for him :)
Semporna is amazing but without my amazing mr basboosa, it has less meaning to me. perhaps i could arrange a week stay in Mabul with him and we could take a rest and explore the island and other islands together. we always wanted to stay there for longer time and help out the children in the madrasah. but we just dont have time. me busy with my research mr basboosa with his work and thesis to be completed.
.
i need to unpack and pack once i m back at home. mr basboosa said he'll pack all those souvenirs while im away and i just need to put our clothes once i come back. so 6 luggages. 1 souvenirs, 1 our clothes, 1 extra, 1 transit bag, 1 notebook bag, 1 games and snack bags. wow, it's seem like we are moving away.hope the euro will go down and we could have more cash to spend there. shopping shopping and shopping..i have been thinking about it ...a lot. i do have things that i NEED to buy. hahah NEED TO BUY.. the precise phrase!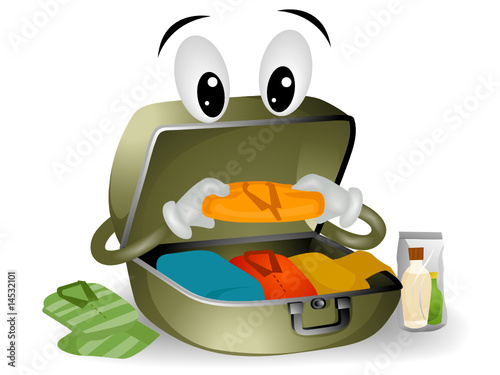 it will be good if the luggage could pack and unpack by itself
how do i feel? all excited but nervous too. meeting the in laws for the first time but i'm confident that i'll be okay. they must be as nice as the boy that im married to.
all set for the trip? yes, im leaving my work behind and my boss will have to take care of it. i have submitted my work to him since last two weeks but he doesnt seem to have time to check it. too bad, he'll need to do it while im gone plus the correction and believe me i am a mistake-prone. hahah..sorry Doctor,
'Cause I'm leaving on a jet plane
I know when I'll be back again
Oh, boss, I love to go'
hahaha such a looney.
so, time to write some serious report now. all set for the 15 hours flight..owwhh i had to take the 3 hours back homee first. what a spoiler.
good night